Ethereum is So Hot Right Now - The Daily Gwei #45
What's the hottest thing happening on Ethereum right now? Everything.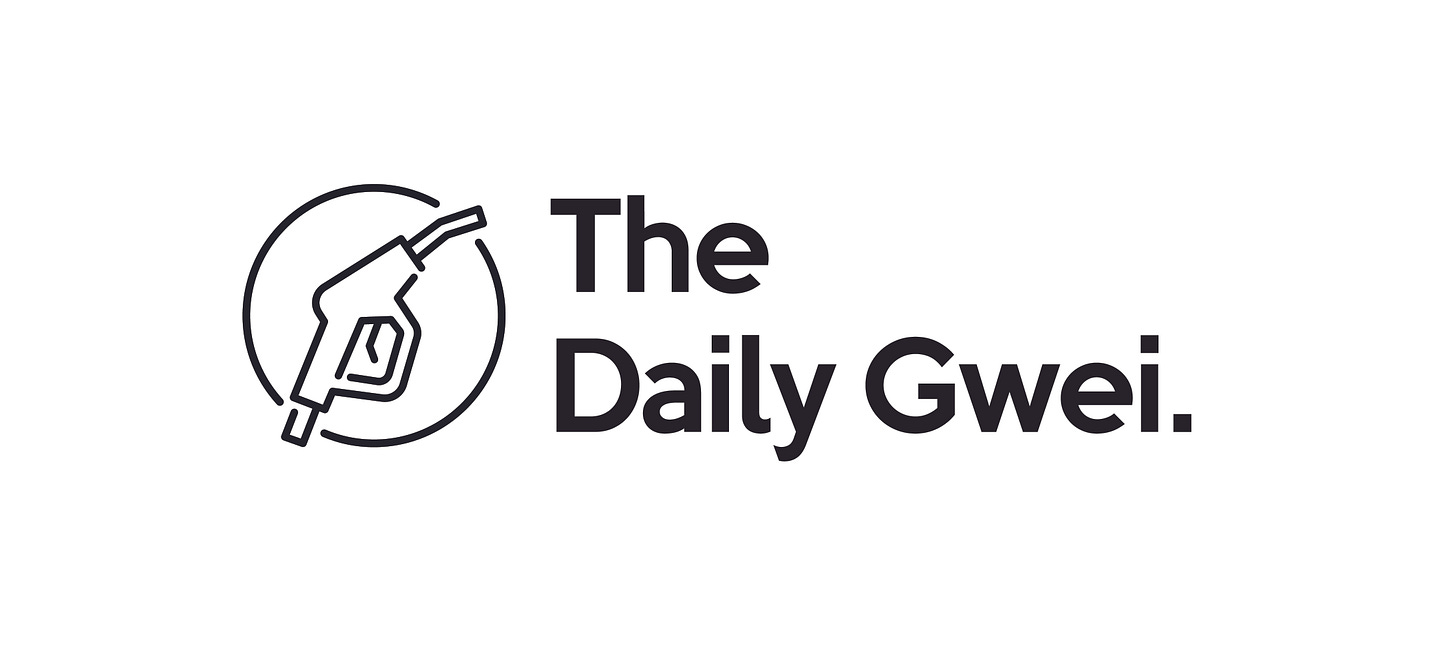 ---
Ben Edgington asked this question on Twitter a couple of hours ago and it got me thinking - what actually is the hottest thing happening on Ethereum right now? Well, turns out, it's literally all of the things that Ben has as poll options and more.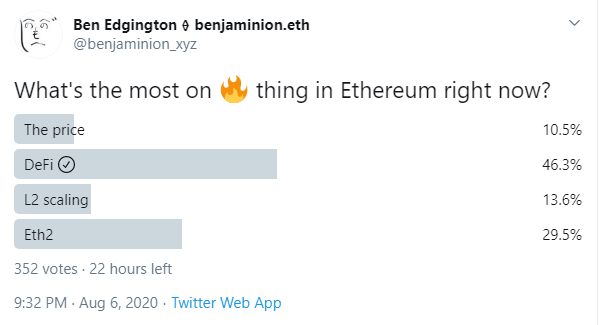 Source: https://twitter.com/benjaminion_xyz/status/1291336365054013440
Let's start by going down the list by talking about the price of ETH. Obviously, it's been on fire lately - breaking out of a 2 year sideways trend and heading above $400 (a price not seen since mid-2018)! The ETH/BTC ratio has also been recovering nicely from its low of 0.016 late last year. I gave some more of my thoughts on why the price has been recovering here.
Next up we have DeFi which has obviously exploded in growth over the last few months with things like DEXs reaching record volumes that accounted for 4% of centralized exchange volume in July alone! This comes as no surprise to Ethereum die-hard's as we've seen the DEX appeal for a while now. On top of DEX growth, we now have over $4.5bil USD locked in DeFi, over 4.3 million ETH locked (~3.5% of the total ETH supply), and many of the "DeFi tokens" showing impressive returns for investors. Read more about all of this here.
Layer 2 scaling was next on Ben's list and this area has exploded in research, development and user adoption over the last few months. I first detailed it here on June 19th but since then the space has just continued to evolve at a rapid pace. For example, the Scaling Bake-Off Competition that Reddit held had submissions from over 20 teams who have mainnet-ready scaling solutions that claim to be able to handle Reddit's user base - that is insane! Hell, the Iden3 team just announced a new scaling solution for Ethereum as I was writing this piece!
Finally we have eth2 and I think this one is pretty self-explanatory as Medalla, the "final" eth2 phase 0 testnet, just launched. On top of this testnet going live, there's amazing progress being made across the entire eth2 roadmap with things like phase 1 clients talking to eth1 (in preparation of "The Great Merger"), phase 2 progress being made by teams like Quilt from ConsenSys and lots of auxiliary research across all of these phases and beyond. Learn more about all of that here.
I haven't even touched on all of the other things happening in Ethereum right now - DAOs are growing steadily and maturing, NFT/crypto-gaming/collectibles are seeing record users/trading volumes, people are hungry for education, and to top it all off, The Graph (a core infrastructure provider) temporarily buckled under Ethereum's load just a few weeks ago!
Ethereum really is incredibly hot right now.
Have a great day everyone,
Anthony Sassano
---
All information presented above is for educational purposes only and should not be taken as investment advice.
---
Follow and Support Me
---